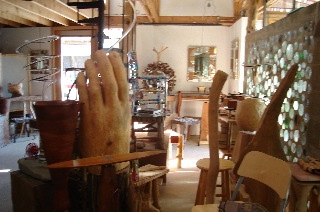 Shapiro Design creates Studio Furniture and a variety of other custom artisan products and accessories. We are interested in working with architects, interior designers, and public art venues. We welcome commissions on any scale.
In our work we experiment with assemblage that allows us to edit, slice, and recombine our materials.The designs are one-of-a-kind art objects that often incorporate materials such as native woods responsibly harvested from our property, exotic woods, aluminum, copper, wood turnings, recycled parts, collage, handmade tiles, silver, nails, and glass. Some of our work reflects the natural twists, turns, and cracks as we seek to blur the lines between sculpture and furniture while other pieces reflect more geometric concepts.
For 20 years,Shapiro Design Group has focused on commissioned work. We have exhibited in the American Craft Council Show in Baltimore, Maryland, The Fine Furnishings Show in Providence, Rhode Island, and The Society for Arts & Crafts in Boston, MA.
Our work appears in private collections, galleries, and in the art collections of Neiman Marcus, and The McDonalds Corporation. . Please tour our "studio" and feel free to contact us with any questions you may have or to inquire about pricing.
**Our work appeared in Lark Books 500 Cabinets series in the Summer of 2010
**Please check the News section of our website for current updates
*Members of The American Craft Council.